If you're an app developer in the health & wellness space, one of your goals is likely to improve people's well-being. But how can your app help anyone if no one can find it? App Store Optimization (ASO) can give your app the visibility it needs to be discovered and the user-facing elements to achieve installs.
ASO is an ongoing process that leads to continued growth, just like a health and fitness regimen. There are cornerstone components to adhere to, as well as seasonal adjustments to consider and capitalize on. These adjustments include aligning your metadata with your target audience's needs and updating your creative sets to stay relevant, especially when user trends change with the seasons. Following these best practices can help your app marketing stay fit throughout the year.
A major aspect of ASO is updating your app and your store listings. This can help you stay relevant to your audience, even when market demand changes.
Trends can fluctuate throughout the year, based on everything from weather to holidays. These changes present new opportunities to reach new users. Timely updates can reduce the chance of users dropping off and keep your app relevant to new potential users.
This is particularly important for health and wellness apps, given changing needs for exercise activities. In 2020, many users had to look for alternate fitness solutions as a result of shelter in place orders, gym closures, etc. Fitness and wellness apps can illustrate how they accommodate users' at-home needs for everything ranging from exercise to meditation and more.
Updating your metadata and creatives in accordance to the season and current events can have a significant impact on performance. If your app is clearly aligned with user trends and needs, it will be more likely to appeal to users when they see it.
As competitor apps launch seasonally relevant updates, appearing outdated or out of touch means there is a higher chance of potential user drop off. If a user sees an app with outdated marketing messaging, such as offering to help them get in shape for "New Years 2020," they may be less likely to install.
Metadata and Seasonal Trends
How do you help ensure users will find your app in the right searches? You need to update your keywords to target search terms you want to rank for. In the case of seasonal updates, you will want to align your metadata with the seasonal trends for health and wellness.
Search is the most important channel for app discovery, as this is where the majority of app discovery occurs. You'll want to ensure you keep targeting relevant and in-demand keywords to appear in the right searches. As the seasons and events change throughout the year, search terms and keyword volume fluctuate as well. You need to update your metadata to stay relevant with your audience.
Failing to do so can result in a decreased install rate as your visibility falls with the change in keyword popularity. This decrease in clicks and installs can lead to your app losing its positioning for the terms it currently ranks for.
If you want to keep up with keyword trends, you'll need to do your research. Consider what users are looking for based on the season and update your keywords accordingly.
By analyzing keyword trends, we can see how fitness apps grow in popularity near the end of the year, as users make their New Year's Resolutions to get in shape. We can see similar upwards trends as summer approaches and users prepare for outdoor activities. These trends may not involve the same keywords, so it's important to know what terms users are searching for.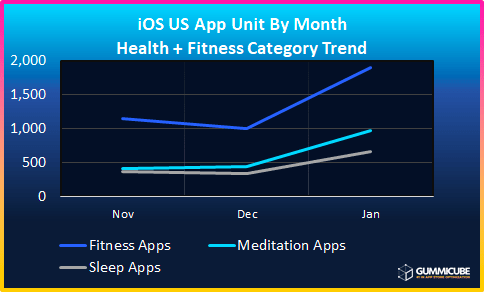 Changing your creative set (icon, screenshots and video) as part of the seasonal updates is an important way to visually indicate to users that your app is relevant and up to date. You need to align your creative updates with your overall optimization strategy to see the best results. Ideally, you'll be able to test your changes before deploying them to ensure they appeal to users while still being able to launch the update in time.
Optimizing your creatives to reflect the needs of your audience can help ensure your app will gain more users. This helps it stand out from competitors in the same space and avoid missing out on potential users by remaining relevant to current trends.
ASO Techniques for Health & Wellness Apps
Before you add seasonal updates, you'll need to ensure your creatives are optimized for your genre. This will give you a solid creative set to build upon throughout the year.
There are some popular trends that Health & Wellness apps tend to use for their creative sets. These help illustrate the benefits of the app in a visually engaging way:
Displaying accolades shows users that experts and reviewers think highly of the app; these can be placed alongside in-app imagery.

Including use case imagery of real people shows how the app can help users with real life examples.

If the app uses charts and data to track progress or health, including a positive chart as an example illustrates how the app works and shows an example of the improvements it can provide users.
While these elements are common among Health & Wellness apps, it's important to test each element and illiterate accordingly. Testing and iteration will provide the data needed to fine-tune your specific app to build a solid foundation for seasonal adjustments.
ASO Techniques for Health & Wellness Apps
When you update your creatives, be sure to consider seasonal trends and choose imagery that reflects them. If users see the screenshots are directly related to their needs, whether it's ways to stay healthy during the winter or exercises in the springtime, they'll be more likely to install the app.
Consider your keywords, which should also be updated for the season. Integrating these keywords into your screenshot copy can help correlate your app with the search terms. If users see the exact phrase that they're searching for in the screenshot copy, it will immediately connect the app to their needs.
Along with year over year seasonal trends, it's important to understand user behavior and trends tied to current events.  Following to shelter in place orders the demand for at-home health and wellness solutions has grown. Apps that build creative sets to highlight "home workout" or include imagery of users exercising at home may be more likely to resonate with these users.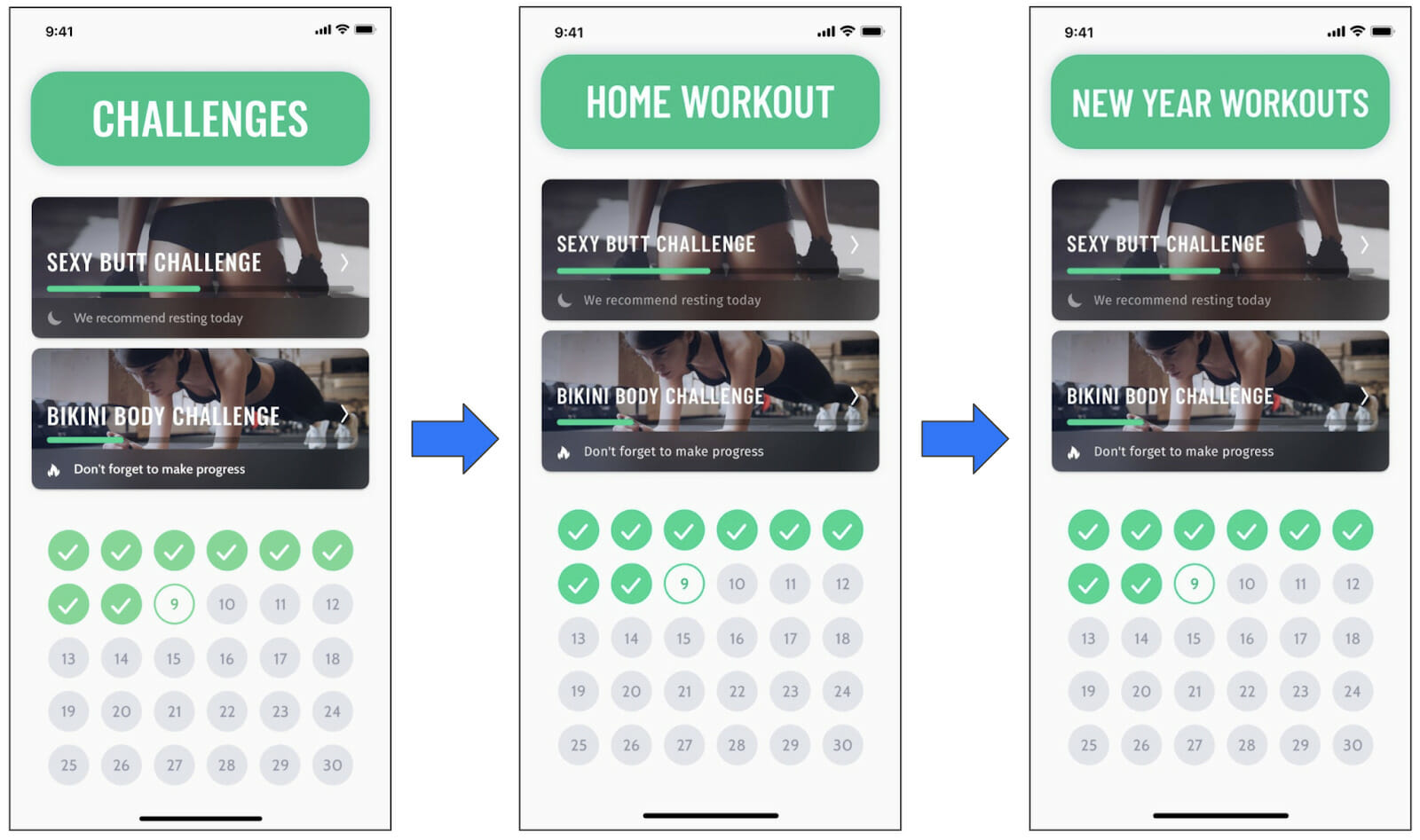 Applying these changes can help show users that your app is exactly what they're looking for. Staying up to date with user needs can provide potential users with the confidence they need to download your app.
Just as health and wellness requires ongoing work to maintain, so too does App Store Optimization. As the seasons change, user needs change as well, and apps need to keep up. This means updating based on seasonal user trends, targeting new keywords and updating creative sets to match. With App Store Optimization, your app can grow and maintain a strong placement in the app stores throughout the year.
Gummicube Co-Founder & CEO, Dave Bell
Gummicube is a global leader in App Store Optimization with more than 11 years of experience optimizing and marketing apps. We offer the leading enterprise ASO technology and agency services, providing support to clients around the world. Our company is trusted by thousands of enterprise brands and leading startups including Microsoft, LinkedIn, Bethesda, SWEAT, GrubHub, McAfee and many others.